2020 International Fisheries Science Prize Awardee: Dr. Katsumi Tsukamoto
The WCFS is pleased to announced that the 2020 International Fisheries Science Prize will be awarded to Dr. Katsumi Tsukamoto at the upcoming World Fisheries Congress in Adelaide, Australia. The International Fisheries Science Prize honors an organization or an individual who has made a significant contribution to global fisheries science or conservation and is awarded every four years.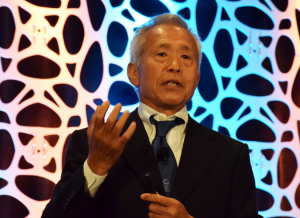 Dr. Tsukamoto, a Professor at the University of Tokyo,  is the leading international authority on the biology, ecology, and conservation of freshwater eels. Dr. Tsukamoto has contributed an astounding breadth, depth, and scope of knowledge to this entire group of fishes, which make up a key fishery. Through his more than 40-year career, Dr. Tsukamoto has worked tirelessly in research and international collaboration, as well as in mentoring younger scientists and engaging in public outreach. He has published more than 600 original papers or book chapters, authored many books for the general public, and reached thousands of school children directly (he personally spoke at 277 schools during 2015-2018). Dr. Tsukamoto's dedication and achievements are unparalleled.
Congratulations, Dr. Tsukamoto!