Dr. Douglas J. Austen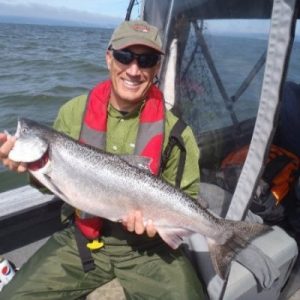 Dr. Douglas J. Austen was selected as the executive director of the American Fisheries Society, the world's largest and oldest organization of professional fishery scientists and managers, February 2014.
"To have this opportunity is taking all my work experience and putting it to good use on behalf of the profession and the fisheries resources not only in North America, but worldwide," said Austen, who has more than 30 years of fisheries and natural resources management experience. "I'm very excited to use my experience to help the society become a better partner and colleague to all our state and federal members and partners."
Austen is responsible for all of the society's staff operations and collaborates with partners in Washington, D.C., and other areas to ensure fisheries science is used in policy development and legislation. He will work toward achieving the society's 2020 Vision — a future where worldwide fisheries production is optimized and sustained while marine, freshwater, and estuarine ecosystems are maintained or improved. He also serves as secretary-general of the World Council of Fisheries Societies, which includes cooperating fisheries societies from a dozen nations.
"By far, the most fun part of the job has been reconnecting with many friends from around the country who work in fisheries," Austen explained. "Many of them have offered to help with the society by working on committees that address many of our science or policy challenges."
Austen had served as the National Coordinator of the Landscape Conservation Cooperatives with the U.S. Fish and Wildlife Service since 2010. He has handled various roles with the American Fisheries Society, including president of the North Central Division, president of the Illinois chapter, and co-chair of the Fisheries Action Network. He previously served six years as executive director of the Pennsylvania Fish and Boat Commission.